Walmart car battery brand EverStart caught your attention probably because of the lowest price out there with good quality.
So, you're not entirely sure what to expect from the EverStart battery if you buy one.
If that's the case, I will solve your dilemma:
Are Walmart Car Batteries Good?
Walmart car batteries EverStart are excellent, affordable, and reliable batteries built by a reputable company. With maximum power, it will withstand any weather and terrain conditions. Many positive reviews from happy customers prove that these batteries are well constructed and of good quality.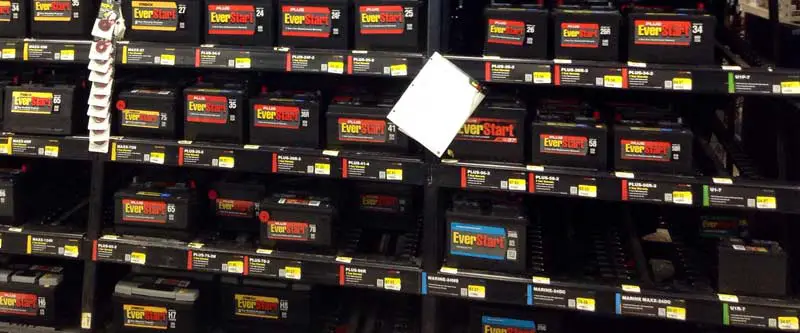 The Quality Of Walmart Car Batteries?
Built quality is always in question when it comes to products that must last a longer period of time under tough circumstances.
One of those products is a car battery. If built well, they will perform just as well in any kind of scenario that you throw them in.
Walmart EverStart batteries are built in reputable, well-known company Johnson Control which has decades of experience in battery manufacturing, on which you can read more below.
EverStart is not just another car battery brand that pops up one day on the market and disappears overnight. It is here long enough to prove the quality and give you peace of mind and enough confidence to trust Walmart's brand EverStart.
Does Walmart Put Batteries In Cars For Free?
If you buy an EverStart battery from Walmart, they will install it for you for free. With that said, you must be sure that you will buy a battery from Walmart that has an automotive center division if you want them to install the battery.
If they don't have that department, you must install the battery yourself or bring it to a mechanic to do it for you.
Also, if you want to give them back an old battery due to replacement, they will cut the price of a new battery a bit. This is called a core charge.
Does Walmart Give You Money For Old Batteries?
Walmart does not buy old batteries from customers. But, when you purchase a new one and if you give them back an old battery, they will refund $12 of the core charge back to your bank account.
This is excellent practice and convenient because you get some money back and you don't have to worry about the old battery. And they got an old battery which they will recycle. This is a win-win situation for both parties.
What Is The Warranty On Walmart Car Batteries?
As with all new products, a warranty comes with it. The length of the warranty depends on the battery category. So for Walmart EverStart batteries.
At Walmart, there are three categories of lead-acid car batteries. EverStart Value, EverStart Plus, and EverStart Maxx.
All three categories come with different free replacement warranty lengths, which are:
EverStar Value – One year
EverStart Plus – Two years
EverStart Maxx – Three years
You should always check the warranty length before purchase to ensure that everything is in order.
If, for any reason, the battery goes bad within the warranty period, the return policy is straightforward. Go to the nearest Walmart, which has an automotive center, and they will test your battery to make sure that it is bad. They will replace the battery with a brand new one.
How Long Do Walmart Car Batteries Last?
You can be confident that EverStart batteries will surpass the warranty period if adequately maintained. You can read some of the customer reviews in the section below, which are very impressive.
As we read through reviews and analyze them, people are getting one or two years extra battery life on top of the warranty period, which is pretty good.
The clear winner is that guy to whom his EverStart battery from Walmart lasted whopping eleven years and five months, on which you can read more below.
Considering the fact that the manufacturer of EverStart batteries for Walmart is Johnson Control, many people are very satisfied with the quality if you count the lowest price on the market today.
Like with any product, there will always be a small percentage of bad products that come from the factory. There is nothing to worry about because you can always refer to a warranty under these circumstances.
What Do Reviewers Say About Walmart Car Batteries?
One of the best things you can do to verify the quality of any product is to visit customer reviews. As you can expect, we have done that for you, and we saw pretty awesome and unexpected comments on EverStart batteries.
Here is a couple of them:
KsGuy's old battery is dated 9/13, and it's 2/27/22, and he thinks it's time for a new one. Pretty impressive 7.5 years.
Risie's EverStart battery lasted for a little over five years, and he went back to Walmart and bought a new one. He gained trust in Walmart batteries because they last well and are not problematic for the battery's expected life as advertised.
Westy23's battery lasted him seven years and two months. Right before he went on a trip, his old Walmart battery died. So he went straight to Walmart again and bought a new one because he was very confident that the new one would last the same amount of time, if not more.
And the winner is Dan. His EverStart battery lasted for eleven years and five months. When he checked the date on a sticker, he wouldn't believe what he saw. Again, Dan is another satisfied customer who goes back to Walmart to buy a new one. And who wouldn't, after so much time that the old battery lasted.
As you can see, these are very encouraging comments from genuine customers. EverStart batteries surpass warranty period two and even three times warranty length in some cases, depending on the original warranty period.
Where Are Walmart Car Batteries Manufactured?
EverStart batteries were manufactured by the most famous company Johnson Control until 13 November 2018. The Power Solutions unit was sold to Brookfield Business Partners, which was re-made into a new company called Clarios on 1 May 2019.
Johnson Controls is the world's largest battery manufacturer worldwide. It supplies more than one-third of the world's lead-acid batteries to automakers and aftermarket retailers, including Walmart, Sears, Toyota, and BMW. Johnson Control produces car batteries for various brands such as Continental, OPTIMA, Heliar, LTH, Delkor, and VARTA.
Johnson Controls has been a Walmart supplier for more than 25 years. In 2009 the company received Walmart's Supplier of the Year for Automotive award. That's how both the companies are serious about their business.
What Type Of Car Batteries Does Walmart Sell?
The Walmart brand EverStart comes in three different levels: EverStart Value, EverStart Plus, and EverStart Maxx. Each of them has its advantages.
EversStart Value will be sufficient for most cars in cold-cranking amps. But it all depends on vehicle specification and on what you really need.
EverStart Value
This is an entry-level car battery at Walmart with dependable power at a value price. You can get one for under $50 respectively. But, there's a catch. Although it's a reliable battery, it only comes with a one-year free replacement warranty.
EverStart Value comes in several group sizes ranging from 490 CCA to 650 CCA, which fits most cars out there.
If you're on a tight budget and in a hurry for a new car battery, EverStar Value is excellent. It's a no-brainer because it will do the job well and last a decent amount of time. Some of the customers reported that this battery lasted them over three years. You can't argue with that.
EverStart Plus
EverStart Plus is a mid-range battery from Walmart with a reliable starting power. Starting price is under $80 and considering two years free replacement warranty, which is an excellent deal.
Starting power for EverStart Plus is 525 CCA and goes all the way to 750 CCA. Again, like for EverStart Value, this is a pretty good range to consider if you were buying a new battery for your vehicle.
Obviously, EverStart Plus is a better choice than EverStart Value because it offers one more extra year of free replacement warranty. If an additional year really gives you peace of mind, without a doubt, this is a battery for you. It will last well over two years mark for sure. And with good maintenance, it will pass well over the warranty period.
EverStart Maxx
EverStart Maxx is the top-of-the-line battery Walmart sells with Maximum Starting Power. You can buy one for as cheap as under $120. Because it's a premium quality battery, It offers three years free replacement warranty.
Maxx series comes in a variety of power, to be precise, from 370 CCA to 850 CCA. It will fit almost all of the cars on the market today.
There are numerous reports from people who bought the EverStart Maxx series, which lasted for over five years. If the price isn't an issue, a premium battery such as EverStart Maxx with a three years warranty is the way to go if you need a new one for your vehicle. It will not let you stranded on the road because it has plenty of power for multiple starts in any weather condition.
Sources
https://www.walmart.com/browse/batteries-and-accessories/everstart-batteries/91083_1074765_1104292_5926247?facet=brand%3AEverStart